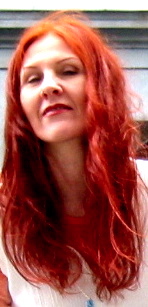 The State Academy of Craft and Art Industry in Oslo (Statens Kunst og Håndverksskole) became my main education. After this I got my first workshop in my flat in Oslo.

Over the years I have had my workshop at a few different places. In June 2006 I started Silverland - a combined gallery and workshop situated in the city centre of Oslo near the beautiful Norwegian "Slottsparken" (The Royal Palace Park).

Materials & Tecniques


Silver is my main metal. I combine it with thread, chains, plates, pins and various half fabricks. My speciality is organic handmade molds that I create using wax. The wax molds are then developed in silver or gold. I made an angel mold some years ago that I use a lot. I also make fossiles like ammonite, triolobite and seahorses. I use different stones, pearls, beads and crystals.
The stones were created millions of years ago. That tells us how precious they must be to us. Stones are told to have a special power in healing. For every month of the year there is a special stone.

Background
Gudny was born in Meråker, a small town situated close to Trondheim in the centre of Norway.



Education in art


Brundalen Advertising School. Trondheim, Norway
Statens Kunst og Håndverksskole, Oslo, Norway.